My creative endeavors vary as much as the experiences that have shaped my artistic sensibilities. I can trace my enthusiasm for art and design back to my first high school job painting bananas and bagels, donuts and dollars on promotional signage at my local grocery store. After receiving my BFA in Fabric Design from the University of Georgia, I followed an opportunity to New York City to intern for Yoma textiles. While working in the big city, I cold called fashion designer, Cynthia Rowley, and showed up for an informal interview with my senior exit show of self portraits in tow. Later that week, I saw some of my hand painted flowers on leather pants strut the runway to Tom Jones tunes. In 2000, I relocated to Atlanta to work as a visual merchandiser for the fashion accessory company, Brighton, where I was tasked with projects spanning fixture, retail and event design for retailers across the country. 3 years later, with encouragement from my mentors and family and an appetite to create, I opened my first painting and design studio in Atlanta, Georgia. The early days of my business were spent painting murals and decorative wall finishes in clients' homes and painting artwork for studio open houses and gallery shows. In 2011, I traded the familiarity of the southern artistic scene for a new adventure with my family in the historically and artistically rich community of Oak Park, IL. This move was a seismic identity shift for me. I became a mother and then a foster mother to a teenager and focused on small scale water colors that I could paint during nap time…hence my series of wedding dresses and bridal bouquet portraits, under the brand Portrait Of A Dress, was born. In addition to the reward of seeing my art in homes and businesses, churches and schools, I have received tremendous gratification from connecting with people. Each season of life has led me to explore new mediums and outlets for creativity but one passion remains the same: I'm enthusiastic about creating art and designing spaces that inspire creativity and joy, provide the backdrop for bringing communities together and make you want to linger longer.
-Kristina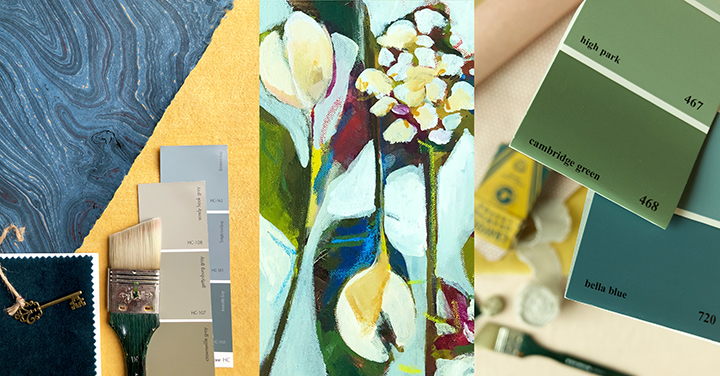 Paintings
I'll be posting new painting series available for purchase seasonally on the website. Please sign up on my contact page to receive news when I update the website with new work or host an art open house! In the meantime visit my portfolio to see a collection of work.
Interior Design
I'm interested in creating spaces and art that spark joy and meet the needs of clients for each varied season of life. From a design refresh to a fresh start, I work with clients to create spaces that are both beautiful and functional and that provide the backdrop for connection with family, friends, and neighbors. Visit my Interiors page to find out more about interior design services.
Murals
I have a fondness for painting large scale murals and free form designs on the walls of homes and businesses. These types of projects were the foundation of my business in 2004 and continue to inspire my creative juices today. Do you have a wall or room in your home begging for some bold strokes to enliven the space? Let's talk!